Barefoot Travelers Rooms
Making a Reservation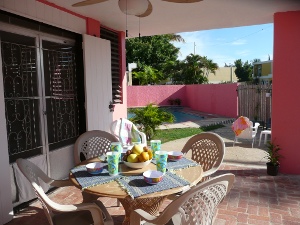 Enjoy Meals Poolside on the Patio
It's really easy to make a reservation for our Guesthouse.
First, send us a message or call us at our office 787-850-0508 with your dates and room preference(s).
Second, after we connect and confirm the availability for your request, your reservation will be made official once you make a 50% deposit via visa, MasterCard or PayPal.
The balance due for your reservation will be paid upon arrival to the Guesthouse.
We welcome one night stays here at Barefoot Travelers Rooms, but do require the full amount paid in advance.
Cancellation refunds (minus a 10% processing fee) ONLY if more than 30 day in advance of stay.